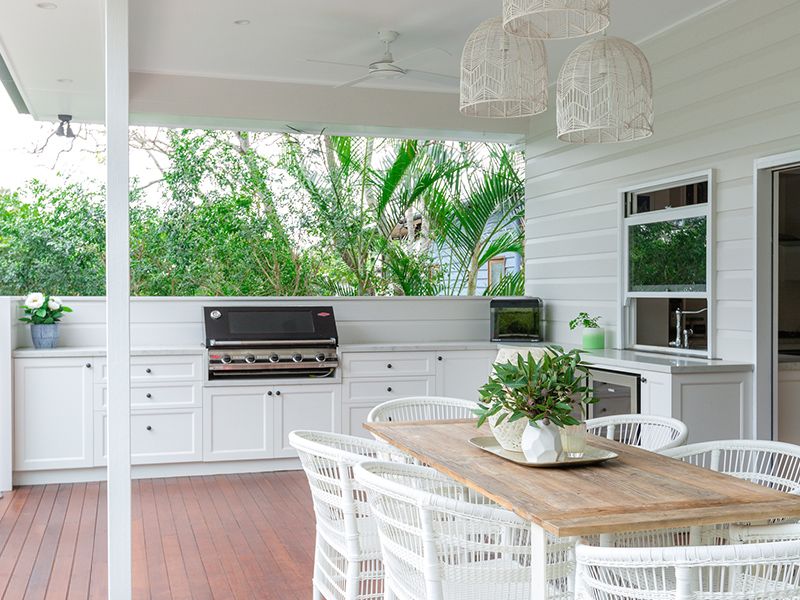 Spend the entire spring and summer months outdoors by adding kitchen functions to your garden space. Outdoor kitchens have become ultra-desirable back yard features. With everyone spending more time at home we need to get creative with the space we have! If you are looking to construct an outdoor kitchen and take your cooking and dinning outdside keep on reading for our design tips!
An outdoor kitchen can replicate the indoor cooking space you currently have. The number of features you will want to add to this space will really depend on the budget. A basic design will include a BBQ, a dining table and maybe some counterspace with extra storage. If you are looking to elevate this design try adding a pizza over, a sink, a side burner and even a fridge for the ultimate outdoor kitchen space!
Get inspired by the layout of your indoor kitchen or switch up the floor plan of your outdoor kitchen depending on your space. Do you prefer a linear shape? Or an "L" shape? You can even add an island if you'd like! Think about the sizing of your outdoor kitchen in terms of seating and counter space. Your outdoor kitchen will most likely be smaller than it's indoor equivalent so make sure you are maximizing this space!
For an outdoor kitchen to be successful you must include waterproof features. You want to design your kitchen countertops and cabinetry with the weather in mind. You also want to make sure you are constructing your outdoor kitchen on a sturdy surface that is non porous and avoids staining. Decided whether or not you want walls in your kitchen design or a roof to protect the cooking area. Lastly, add plants and herbs to complete your outdoor kitchen design!