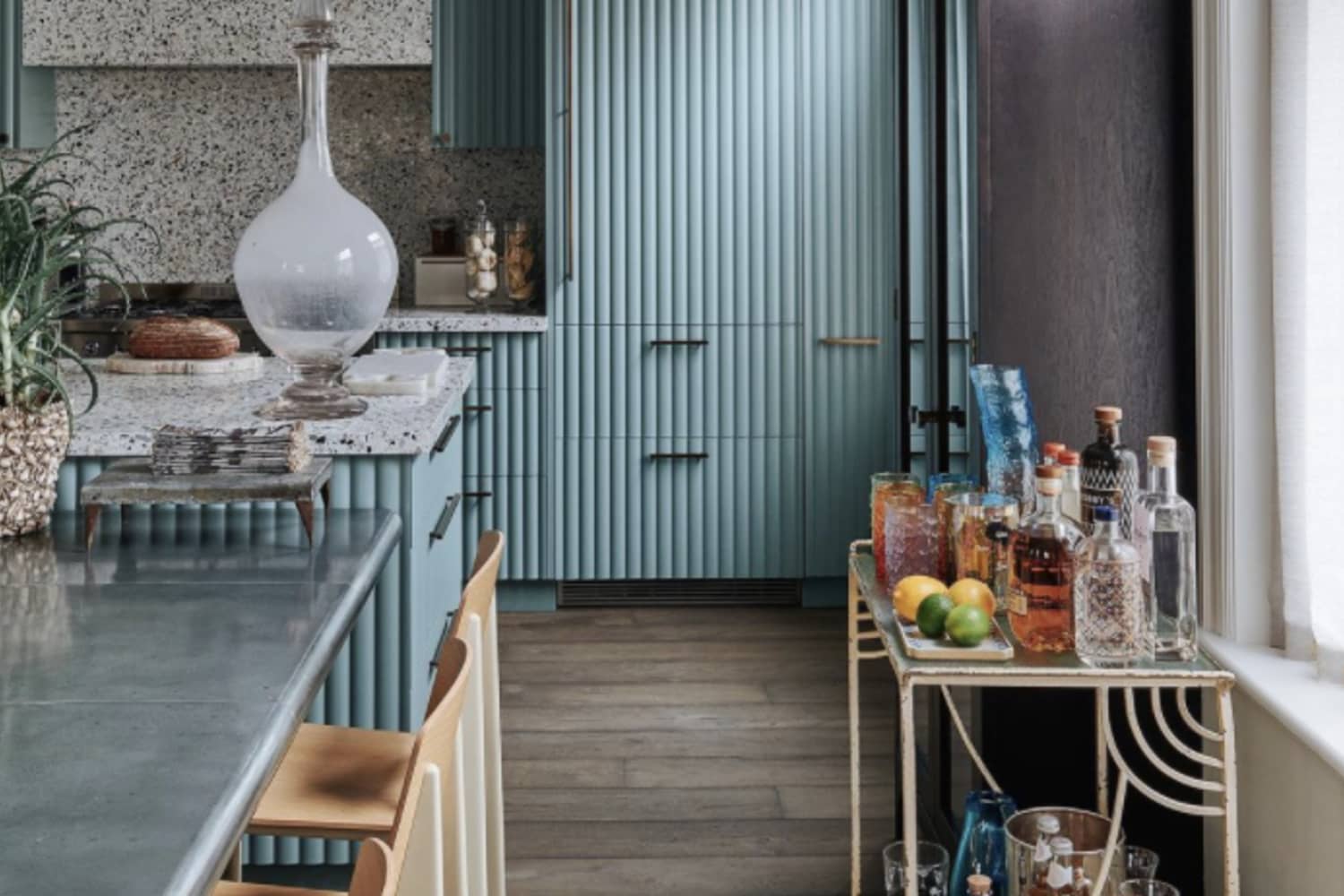 Move over shaker style cabinets because the next big cabinet trend is in, reeded cabinetry! Shaker kitchen cabinets are the most popular style of cabinet doors characterized by their straightforward profile with a recessed center panel. Most shaker cabinets have a very simple and clean look while others may feature detailing around the edges. If you are tired of seeing this very popular design trend in kitchens and bathrooms everywhere then keep reading to learn more about the new trend, reeded cabinetry!
Reeded cabinetry is characterized by the textural front profiles. Unlike Shaker style cabinets the front profile is not smooth and bare but instead is filled with ribbed pieces of wood. The cabinets appear as if dowels (cylinder pieces of wood) have been glued vertically beside each other creating the reeded design. This design trend is one that is very unique and is unlike anything seen in cabinetry! This style of cabinets gives the home a modern and custom feel while remaining functional and chic.
Reeded style cabinets appear to have a similar shape and appearance as the shaker style cabinets, but with a closer look you will see the textured rippled effect of the front profile. Reeded cabinetry also plays well with shaker cabinetry in sort of a hybrid design. With the classic trim and profile of the shaker cabinets but instead of the centre panel being smooth in a typical shaker style it has the reeded design. In the hybrid style you get the classic look of the shaker cabinets mixed with the unique design of the reeded style, it's a win-win!
Like shaker style cabinets, reeded cabinetry can be substituted in any part of the home! They work really well in a kitchen layout and can be painted to suit the colour palette of the space. Want to spruce up your bathroom? Try a light wood shade of reeded cabinets to offset an all-white bathroom. Even in the mud-room, storage built-ins can have the reeded makeover! If you love the design and style of reeded cabinets but aren't up for a major renovation you can even introduce it into the home in the form of décor or accessories. For example, a reeded lamp post or stool. This new design trend is very versatile and this can account for its sudden popularity!